SchnitzelConf is a 1-day, full-contact conference in Vienna, Austria on September 7.
The focus: creating products, launching businesses, and charging real money.
You'll meet and learn from the founders of successful bootstrapped businesses—including Software as a Service, downloadable software, and digital goods. Hard-won knowledge will be shared. Fun will be had. Wine will be drunk. Inspiration will be sparked.

Seating is limited to 65 seats, to promote an excellent speaker to attendee ratio.

The registration fee includes lunch, dinner and drinks and there will be plenty of time to mingle with the speakers.

SchnitzelConf is a not-for-profit conference.
Your entire ticket price is put back into making the conference awesome.

We are releasing tickets in batches, so everyone has a chance to grab one!
The location: Vienna's amazing Museum of Natural History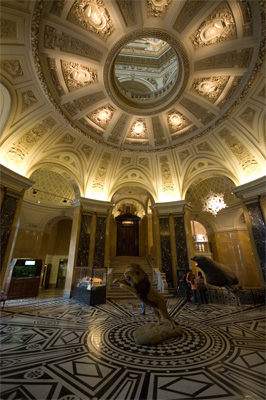 Where will Schnitzelconf be held?
In a nasty 1980s hotel ballroom? NO! In a sea of fusty faux red velour that's been crushed by 5 decades of butts in suits? No! Behind the lion, up the stairs…

Yes, we're holding our conference in
Vienna's incredible Museum of Natural History!

It's the center of everything, and
so easy to get to, with scenery that can't be beat.

And, by the way, we'll have the museum to ourselves. We'll have snacks and lunch in this very (gorgeous) lobby, and the gorgeous staircases and scenery will be ours to look upon while we munch, chat, query, and connect. It's gonna rule!
Sorry, but Schnitzelconf is SOLD OUT!


If you're desperate for a ticket, please

Thomas

and with a lot of luck he might be able to hook you up (ticket price is €300,-).
Sign up to stay informed about Schnitzelconf!
Follow us on Twitter @schnitzelconf
Our awesome sponsors
About the organizers

Amy Hoy, believes Europe is full of entrepreneurial spirit, but tech product entrepreneurs fall almost exclusively into the shoot-the-moon-and-boil-the-ocean category. That's why she started a conference, of course — so fantastic people come and tell us their stories. She's @amyhoy on Twitter.

Thomas Fuchs is a Vienna-born JavaScript guru and open-source aficionado and one-half of slash7, makers of Freckle and other fine products. He loves being his own boss and posts lots of silly rants as @thomasfuchs on Twitter.

Harald Eckmüller rants about UX, education & tech as @heckmueller, and sometimes shares a desk at slash7, working on his own bootstrapping ideas or coordinating the new media efforts of one of the most prestigious european conferences, the European Forum Alpbach.

Alex Hillman was the spark for creating SchnitzelConf in the first place, while scheming with Amy for the Year of Hustle. Alex does epic shit like IndyHall and is @alexknowshtml on Twitter.
Amy, Thomas and Harald founded Bootstrap, a non-for-profit organization with the goal to further and encourage young entrepreneurs all over Europe to get started doing real business without the need for investors' money.
SchnitzelConf is run by Bootstrap – Verein zur Förderung von europäischen Jungunternehmern mit Eigenkapital, a not-for-profit organization.
Informationspflicht gem. §5 Abs. 1 E-Commerce Gesetz (ECG)
Medieninhaber und Herausgeber:
Amy Fuchs, Hugo-Wolf-Gasse 1/9, 1060 Wien
für den Vorstand von Bootstrap – Verein zur Förderung von europäischen Jungunternehmern mit Eigenkapital

ZVR: 514629419